A Story for the Ages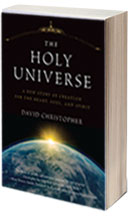 The Holy Universe is a book that breathes life into the cold, scientific worldview of the universe, transforming it into a living story of creation that speaks to the heart and spirit. It offers guidance in navigating the global ecological, social, and spiritual crises humanity faces—and why these crises just might be the best thing ever to happen to humanity.
Buy the Book
Click below to see the various options available to you to purchase the book.
Downloads: Sample Chapter and Reader's Guide
Sign up on our mailing list and we'll send a link to download the the Reader's Guide to the Holy Universe and a sample chapter from the book.