About the Author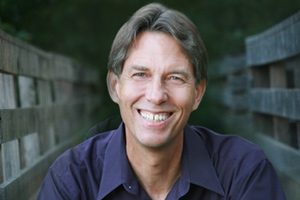 David Christopher is an award-winning author and teacher of the "new story," a story that integrates the science of the 20th and 21st centuries with a spiritual sensibility toward the creation of the Universe.
He became intrigued with this story over 15 years ago. But as he dove deeper into this new worldview, he felt something was missing. He missed the poetry. He missed the lyricism of the liturgy and the scriptures. He wanted more. He wanted a story that also felt like the story given to him in his youth. This led him to write The Holy Universe: A New Story of Creation for the Heart, Soul and Spirit.
Today, David travels around the United States and also hosts webinars and "call-in book clubs," teaching about the importance of telling our collective story and finding one's role in facing the crises of our age. He appears before a variety of audiences, including Unity and Unitarian Universalist congregations as well as college classrooms.
In addition, David has served as a facilitator and facilitator trainer for the Awakening the Dreamer Symposiums produced by The Pachamama Alliance. His work and his book are part of a growing worldwide effort to cause a major shift in humanity's consciousness and worldview regarding ecology, social justice, and spirituality.
David also works for his family's real estate management company. Formerly, David was the Vice President of Finance for a software startup and a certified speaker for Vicki Robin's best-selling Your Money or Your Life program. In addition, he worked as a financial recovery counselor helping individuals to take charge of their financial lives.
David's experience extends to the aviation world, where he was an airline pilot for United Express and did a ten-year stint as a senior flight instructor training pilots to fly small private aircraft. He has also led training programs for Managed Health Network, Sacramento City School District, County of Contra Costa, Oracle Corporation, and others.
David has been featured on GaiamTV, in the San Jose Mercury News, The Denver Post, the White Plains Citizen Register, The Press Democrat, and the Contra Costa Times.
David did his undergraduate work at USC Film School, where he received his BA in Cinema Production. He received his Master of Arts in Social Science from Azusa Pacific University. He has also served as an adjunct faculty member for California State University, Los Angeles.
David lives in Northern California and likes to hike and catch up on his reading and research when not traveling around the countryside speaking about The Holy Universe.
Photo by Michelle Montalbano: www.montalbanophoto.com