What is the "New Story Café"?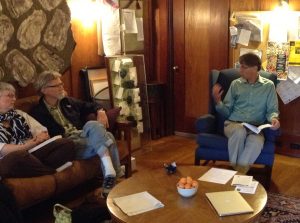 .
It's sometimes overwhelming, looking at the enormity of what we're confronted with—the global ecological, spiritual, and social justice issues that we face, and it's hard to keep from despairing and not feeling lonely as we each find our way through this Great Transformation that is already underway. Thomas Berry calls this "The Great Work"—the work that needs to be done to bring forth Planetary Mind.
I hope that the New Story Café will be a place to gather for those of us who care deeply about the Web of Life and Earth, and who are deeply concerned about the crises that humanity faces. It's a chance for you keep in touch, to interact with me as well as your fellow Seekers, and for all of us to rekindle our hope as we find and fulfill our roles in this Great Transformation.
.


The Game Changer Intensive Alumni Gatherings and Other "Live" Events

I'll be continuing to hold gatherings for folks who have graduated from the Pachamama Alliances' Game Changer Intensive, and who want to stay in touch with one another—please let me know if you're interested in being a part of these gatherings.

I'd also like to put together a live book club and webinars on specific topics  as time permits—please sign up for the newsletter to make sure you're informed of when they come together.
.
Invite Me to Your Book Club
I'm available through Skype to meet with book clubs that are working through the book (sign up for the newsletter to receive a download link for the Reader's Guide, if you'd like to use that for your book club). We can do a single "Q&A" session, or set up several sessions to dive into specific topics about the book.
Contact David to find out more about Book Club visits
.
Comments and Questions
If you prefer, you can also interact through the website and social media. I'd love to hear your comments and questions. Please add your own thoughts, either here on the website or you can add it to the book's Facebook page. (Mobile users: you'll need to directly visit the Facebook page, since the comment function doesn't work yet on mobile devices—a limitation of WordPress). Note: I'd like to forward the questions and answers to my other social media sites, but if you'd rather I didn't do so for your particular contribution, let me know.
Leave a comment on the Facebook page
.
Leave a comment on Twitter
.
Leave a comment on the website
.